Artificial intelligence is fast encroaching upon every area of our lives, and it seems like there's no stopping it. This technology is proving particularly game-changing in the world of business, where it's enabling data-driven decision-making, automation, and improved customer experiences. 
With things moving so fast, and so many sources of information available, we've gathered these up-to-date AI statistics to give you a snapshot of AI in 2023. Keep reading for fascinating insights on who is using AI, how they are using it, and how it's impacting the workplace.
Artificial Intellgence Statistics Highlights
The global AI market is expected to reach a

value of $1.35 trillion by 2030

.

By 2030, the growth in AI technology has the potential to

contribute $15.7 trillion to the global economy

.

It's estimated that

ChatGPT costs at least $700,000

per day to run.

Over

4 million AI-generated images

are produced per day using Dall-E.

57% of Americans are

looking forward to AI technology replacing household chores

.
AI Growth Statistics
The field of artificial intelligence has witnessed remarkable growth in recent years, and these growth in AI stats underline its unprecedented expansion. 
From chatbots to generative AI and image generators, the proliferation of AI technologies across various industries has propelled transformative advancements and unleashed a wave of innovation.
The AI market is already worth $136.55 billion, according to Grand View Research.
Their report predicts a CAGR of 37.3% from 2023 to 2030.
A global AI forecast from Marketsandmarkets predicts a slightly lower CAGR of 36.8%. According to this report, the AI market will be worth $1.35 trillion by 2030. Meanwhile, another report from Presedence Research predicts a more modest value of $962 billion by 2030, increasing rapidly to $1.87 trillion by 2032.
The AI wearable market is expected to be worth $180 billion worldwide by 2025, Global Market Insights has found.
The AI in social media market is expected to reach $12 billion by 2031, representing a CAGR of 28.7% from 2022 to 2031, according to Allied Market Research.
91% of leading organizations are investing in AI activities. 
Around the same number say that their investment in data and AI activities is increasing year-on-year. This is according to the NewVantage Partners Annual Survey of 2022. 92% of companies are already achieving returns on these investments.
The global AI adoption rate was 35% in 2022, up 4 percentage points from the previous year, IBM reports.
ChatGPT launched in November 2022 and within five days, over one million users had signed up for the service. 
The only service that has beaten this user signup rate is the new social network Threads, which took just 1 hour to reach 1 million users, Statista reports.
97% of business owners believe that ChatGPT will positively affect their business operations, a Forbes study revealed.
The latest statistics from OpenAI, the creators of AI image generator Dall-E as well as ChatGPT, show that it has over 3 million active users generating more than 4 million images per day.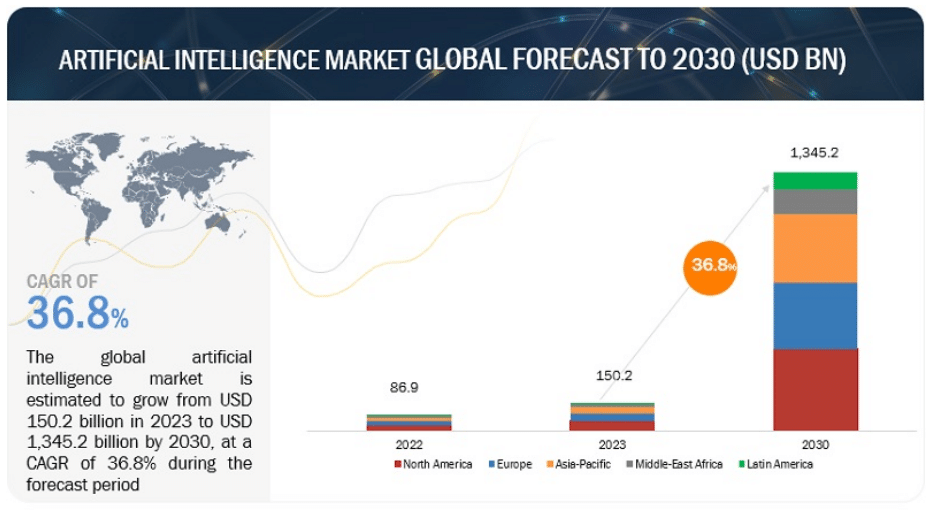 94% of business leaders think that AI will be important for business success in the next five years, according to Deloitte's State of AI in the Enterprise, 5th edition, published in 2022. This survey polled 2,620 global leaders whose companies are already using AI to some extent.
PwC's Global Artificial Intelligence Study predicts that AI technology could contribute an additional $15.7 trillion to the global economy by 2030. 
This equates to an increase in GDP of as much as 26% in China and 14.5% in North America. These two regions together account for almost 70% of the total expected gains globally.
Significant gains are expected to come from productivity improvements and product enhancements that stimulate customer demand.
Artificial Intelligence and Workforce Data
Next, we take a look at who is using AI, what they are using it for, and how it's expected to affect the workforce in the years ahead.
How is AI Being Used at Work?
A 2022 McKinsey survey gave some interesting insight into how AI is being used by companies at present:
Product and/or service development: 55%

Marketing and sales: 55%

Service operations (including customer service and back office): 54%

Risk modeling and analytics: 15%
A further breakdown can be seen in the chart below: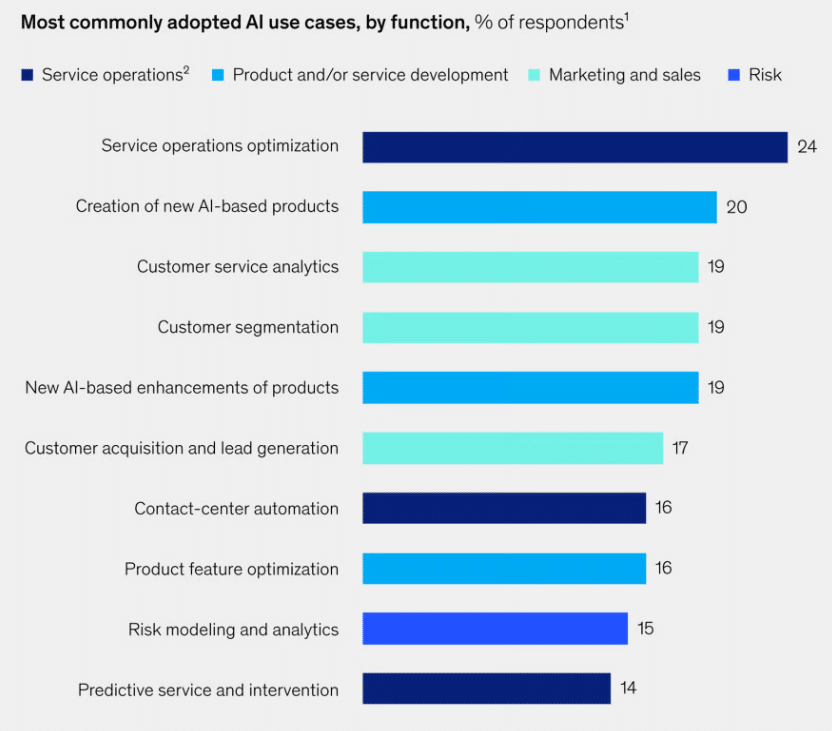 Statistics from Forbes gathered from 600 business owners reveal the following ways that companies are using or plan to use AI to improve the customer experience:
Chatbots for instant messaging: 73%

Composing emails: 61%

Product recommendations and other personalized services: 55%

Composing text messages: 49%

Personalized advertising: 46%

Long-form written content for websites, etc.:42%

Phone calls: 36%
56% of these business owners say they already use or plan to use AI for customer service.
Other top uses are cybersecurity and fraud management, digital personal assistants, and customer relationship management, coming in at 51%, 47%, and 46%, respectively. 
We are already seeing surprising use cases outside of the technology and marketing space:
The University of British Columbia and BC Cancer

researchers have

developed AI that predicts cancer survival with 80% accuracy

by reading doctor's notes.

According to an article published in

Nature

, a revolutionary AI tool can now

predict the structures of 200 million proteins

. Stored on a 23-terabyte database, this information could offer new possibilities for the development of drugs, which are mostly based on these protein structures.

Oxford University scientists

have developed an

AI that can lip-read with 400% greater accuracy

than a human lip-reader.

Emotion AI, which uses natural language processing (NLP) to detect human emotions in text, could

soon be used in healthcare apps to help doctors assess and monitor the emotional state of patients,

especially those with neurodiverse conditions. It could also be used to offer mental health assessments and diagnose conditions,

Neuroscience News

reports.
How is AI Affecting Jobs and Workers?
According to Deloitte's State of AI in the Enterprise survey, 82% of business leaders believe that AI enhances job satisfaction and performance. 
At the same time, 47% say the use of AI technology creates fear or concern.
Marketsandmarkets predicts that by 2030, AI will have reached human-level sophistication and therefore could be threatening many more jobs than at present.
However, Americans seem quite attuned to this risk already. In a study by Pew Research Center, "Loss of human jobs" was cited as the top reason for people feeling more concerned than excited about the growth of AI.
Younger people are more optimistic about AI in the workplace, though. 
According to data published on Statista, 42% of Americans aged 18-44 believe that AI will create many more jobs, compared to just 6% of those aged 45 and over. In fact, 48% of those in the older age group believe that AI will result in many fewer jobs for people, while only 18% of the younger age group hold this view.
Do Americans think artificial intelligence will lead to there being more jobs for people or fewer jobs?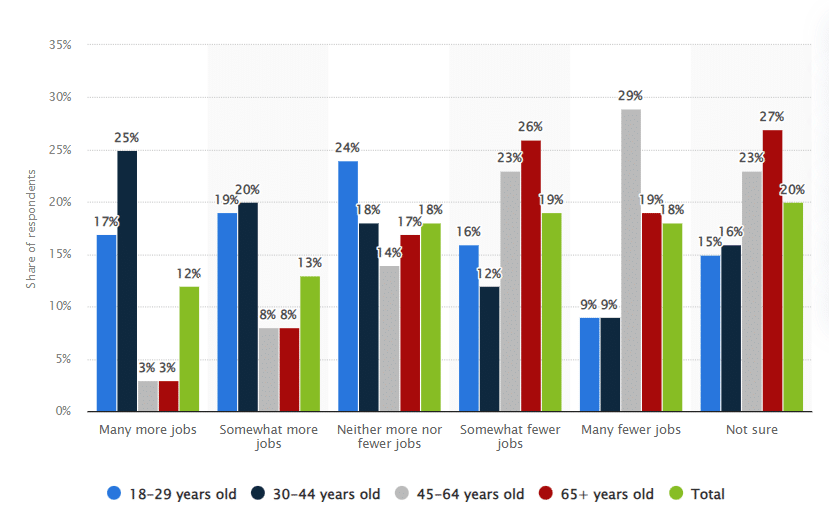 A study published by Goldman Sachs in April 2023 predicts that AI systems will significantly increase AI jobs globally, with the potential to replace 300 million full-time roles. 
The study also noted that two-thirds of US occupations are vulnerable to AI to some degree.
The professions most at risk of automation in the US, according to the proportion of tasks that could be automated, are:
Office and administrative support: 46%

Legal work: 44% 

Architecture and engineering: 37%

Life, physical, and social sciences: 36%

Business and financial operations: 35%
Economists estimate that 60% of the current workforce is employed in jobs that didn't exist 80 years ago. 
This equates to 85% of employment growth coming from positions created around new technology.
The AI Index 2023 Annual Report by Stanford University found that in 2022, 2.05% of US job postings required some kind of AI skill. 
This may not sound like a lot, but it's a number that has been climbing steadily for the past few years. Canada was in second place with 1.45% of jobs requiring AI skills, and Spain came third with 1.33%. The researchers noted that in all the countries they studied, the percentage of jobs requiring AI skills had increased since 2014.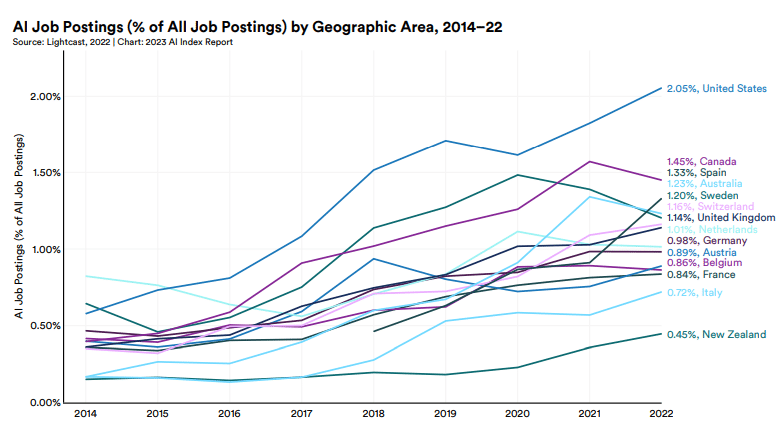 The US is not the market with the highest AI skill penetration rate. 
That crown goes to India, with a rate of 3.23; 45% higher than the US, which takes second place.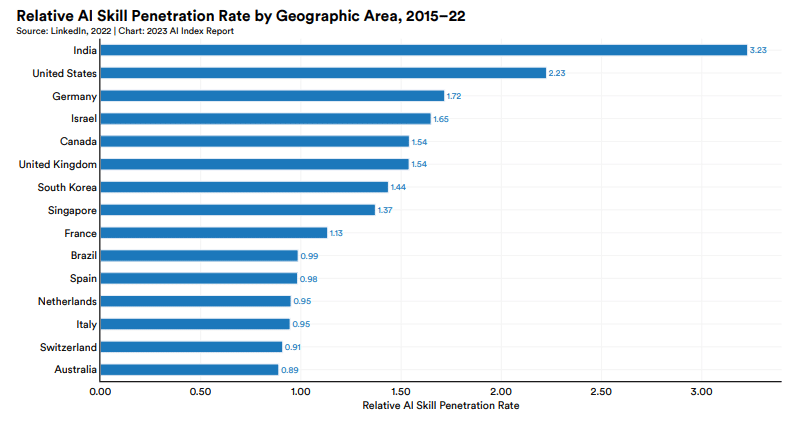 What Jobs Require AI Skills? 
The McKinsey Global Survey on AI sheds some light on this.
Software engineers came out top, with 39% of companies saying they had recruited for this position in relation to AI. Data engineers and AI data scientists came next, with 35% and 33%, respectively.
There is some hope for people without an engineering background, though, as design specialists and translators both made it into the top 10.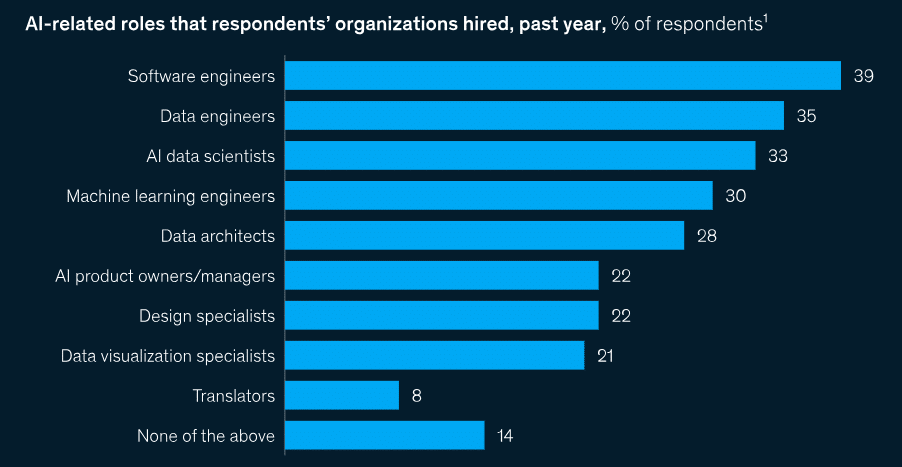 When it comes to specific AI skills, Python – a widely used programming language – is mentioned in 37% of AI job postings in the US, of which there were almost 800,000 in 2022, Visual Capitalist reports. 
Two other languages make the top 10: SQL is mentioned in 23% of job posts and Java in 17%. Computer science, data analysis, and data science also feature prominently, being cited in 33%, 20%, and 20% of jobs, respectively.
It's no surprise that the state responsible for the most AI jobs is California, taking 17.9% of the share across the US. 
This is more than double second-place Texas, with 8.4%. However, with some companies relocating to Texas to take advantage of lower taxes and operating costs, this gap is showing signs of closing.
Artificial Intelligence and Business Stats
How much is all this AI going to cost to implement? And, just as importantly, how much are companies going to save by using it?
Industrial companies that embrace AI technology are already seeing significant cost and time savings. 
A 2022 Accenture report detailed that certain companies using AI for product design, development, and production were saving 30 times more than others, through better leveraging of technologies such as automated guided vehicles and predictive supply chain management.
Cost savings and efficiencies are the top benefits for companies using AI, with 54% of organizations citing this in a 2022 IBM survey. Improvements in IT or network performance came a close second with 53%, while better customer experience took third place with 48%. 
Netflix famously reported that their AI-powered personalized recommendation system was saving them $1 billion a year. 
This is largely due to the fact that viewers engage more with personal recommendations compared to generic 'popular' ones. This increased engagement helps them retain satisfied customers, decrease cancelations, and plan future in-house productions. That was back in 2015, so the use and impact of AI can only have increased and improved. 
A study conducted by Harvard Business Review found that companies that pioneered the use of AI in sales reported impressive results. These included cost savings of 40-60%, call times reduced by 60%–70%, and a 50% increase in leads and sales.
The industries that are set to gain the most from AI systems are those that have conventionally been labor-intensive or capital-intensive.
A report from Accenture lists the share-of-profit increase per industry by 2035, comparing the baseline without AI to the expected profit with AI in place. The sectors that come out on top are:
Education: 84%

Accommodation and food services: 74%

Construction: 71%

Wholesale and retail: 59%

Healthcare: 55%

Agriculture, forestry, and fishing: 53%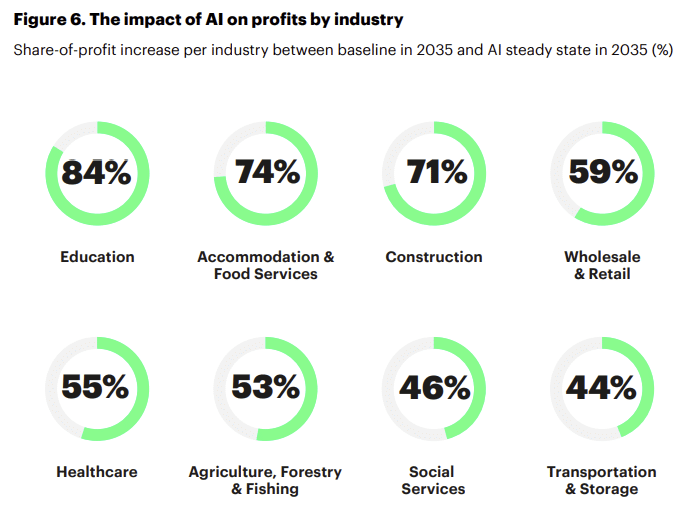 There have also been great successes with AI-enabled supply-chain management. Early adopters of this technology saved 15% on logistics costs while increasing inventory by 35% and service levels by 65% compared to their competitors, McKinsey reports.
McKinsey also reported one of the most dramatic use cases of AI back in 2017, when Amazon acquired Kiva, a robotics company that automates warehouse picking and packing. The result was that Amazon's click-to-ship cycle, which typically took 60-75 minutes with humans, dropped to an astounding 15 minutes with robots. Alongside this, inventory capacity increased by 50% while operating costs fell by 20%.
Despite all these positive findings, a significant number of companies still see cost as a barrier to implementing AI solutions. IBM reports that 29% of businesses are putting off adopting AI because of the price. This is second only to a lack of AI skills or expertise, which 34% reported as a hindrance.
A cost model built by Dylan Patel and Afzal Ahmad for Semianalysis estimated that ChatGPT costs around $700,000 per day to run. 
That's equivalent to about $0.36 per query, based on figures from February 2023 when the research was published. Since then, ChatGPT has upgraded from OpenAI's GPT-3 to GPT-4, which requires considerably more computational power. The actual cost today may therefore be much higher.
There is also the environmental cost to consider. A paper from the University of Massachusetts Amherst found that training a single deep-learning algorithm could emit 313 tons of CO2. That's five times more than the average car emits in its lifetime.
Statistics about the Risks of Using AI in the Workplace
The Stanford University report looked at the risk of gender and racial bias when using AI technology.
Images generated with DALL-E 2 portrayed 97% of people in positions of authority (such as CEO and Director) as white men, despite the fact that these roles are occupied by 29.1% and 39.6% women, respectively.
This research also found that certain adjectives like "unreasonable", "stubborn", and "intellectual" were generally associated with men, whereas "compassionate", "sensitive", and "emotional" were more often linked with women.
This presents concerning risks if AI technology starts to be used for things like creating job profiles before the bias has been neutralized. However, this may be an uphill struggle as the models are typically trained on real-world data that inherently contain these biases.
Businesses seem quite aware of the risks that AI technology presents in their companies. According to the Stanford report, these are the top risks from adopting AI that organizations consider relevant in 2022:
Cybersecurity: 59%

Regulatory compliance: 45%

Personal/individual privacy: 40%

Explainability: 37%

Organizational reputation: 32%

Equity and fairness: 30%

Workforce/labor displacement: 28%

Physical safety: 20%

National security: 13%

Political stability: 9%
However, the report noted that "there are meaningful gaps between the risks organizations cite as relevant and those which organizations have taken steps to mitigate".
Further to this, an IBM study found that 74% of organizations already using AI have not taken any steps to reduce unintended bias in their AI systems. 60% have not yet developed policies about the ethical use of AI in their workplace.
A survey by Forbes revealed some additional concerns that business owners have about the impact of AI:
43% are worried about becoming dependent on AI tech

33% are concerned about the potential reduction of the workforce

31% have privacy concerns

30% are apprehensive about AI providing the business or its customers with misinformation

28% are concerned about bias errors

24% believe it will reduce traffic to their websites
Uses for Artificial Intelligence Statistics
Let's take a look at some statistics surrounding the use of artificial intelligence in our homes and everyday lives.
57% of Americans are excited about AI replacing household chores, according to Pew Research Center. 40% say the same about AI diagnosing medical conditions, and 9% are excited about AI helping them make important life decisions.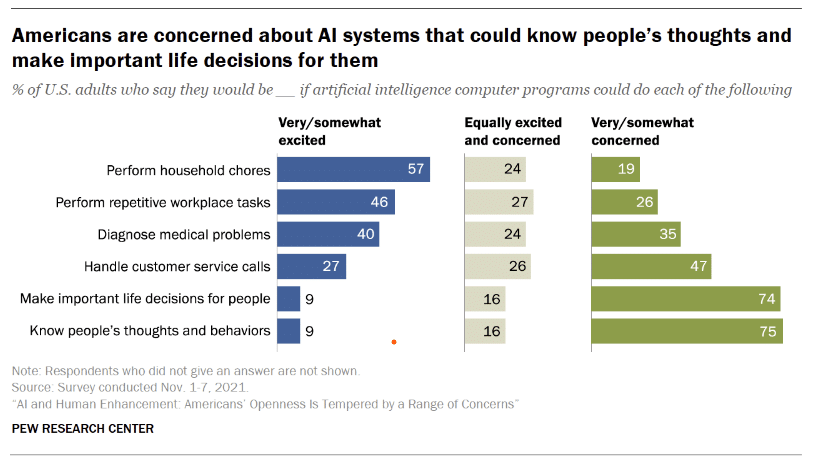 In another survey conducted by Forbes, the top uses for AI were cited as:
Responding to people via text or email: 45%

Answering financial questions: 43%

Planning a travel itinerary: 38%

Crafting an email: 31%

Preparing for a job interview: 30%

Writing a social media post: 25%

Summarizing complex or lengthy copy: 19% 
Driverless cars, also known as autonomous vehicles, seem to be one example of AI technology where consumer sentiment lags behind. The driverless car market is predicted to grow at a CAGR of 13.3% from 20.3 million units in 2021 to 62.4 million units in 2030.
Road accidents caused 38,680 fatalities in the US in 2020, and there are approximately 1.2 million road deaths globally. According to an article published in The Atlantic, by the middle of the century, driverless cars could reduce these fatalities by 90%. This is equivalent to over 30,000 lives a year saved in the US alone.
However, Americans seem reluctant to adopt this technology. Pew Research Center conducted a survey which found that only 26% of Americans believe that the widespread use of autonomous vehicles would be good for society. This is compared to 44% who believe it is a bad idea.
Out of the main digital assistants, Google Assistant has been shown to be the most accurate at responding to queries. Data published on Statista shows that Google Assistant has 93% accuracy overall, compared to 83% for Siri and 80% for Alexa. The only category in which Siri outperformed Google Assistant was with voice commands for phone-related functions.
AI tech has been all over the news since the start of the decade. Here are some of the top AI statistics that have made the headlines:
Microsoft Bing

surpassed 100 million daily users in March 2023, spurred along by its addition of an AI chatbot to its search function.

ChatGPT-4 passed the bar exam with a score that surpasses 7% of human test-takers and exceeds the passing threshold, according to research published on SSRN in March 2023.
There are around 1.8 billion visits per month to chat.openai.com, the website where ChatGPT is accessed, according to Similarweb. That's around 60 million visits per day.

The US is the top user of ChatGPT's generative AI tool. 12% of these visits are from the US, 8% are from India, and 4% are from Japan.

While ChatGPT is booming, one of the original AI writing tools, Jarvis (previously Jasper) is taking a hit. Traffic to the site dropped by 67% between April and June 2023, from 71.6K users/month to 23.7K.

Over half (52%) of UK adults have heard of generative AI, and over a quarter (26%) have used it themselves, according to research published in July 2023 by

Deloitte

.

After 10 years working for Google, computer scientist Geoffrey Hinton resigned from his role in May 2023 and warned the public of the "existential risk" that AI systems pose to mankind.
FAQs
What is artificial intelligence vs machine learning?
What percentage of the population uses AI?
How many lives are saved by AI?
Can AI fully replace humans?
Sources: