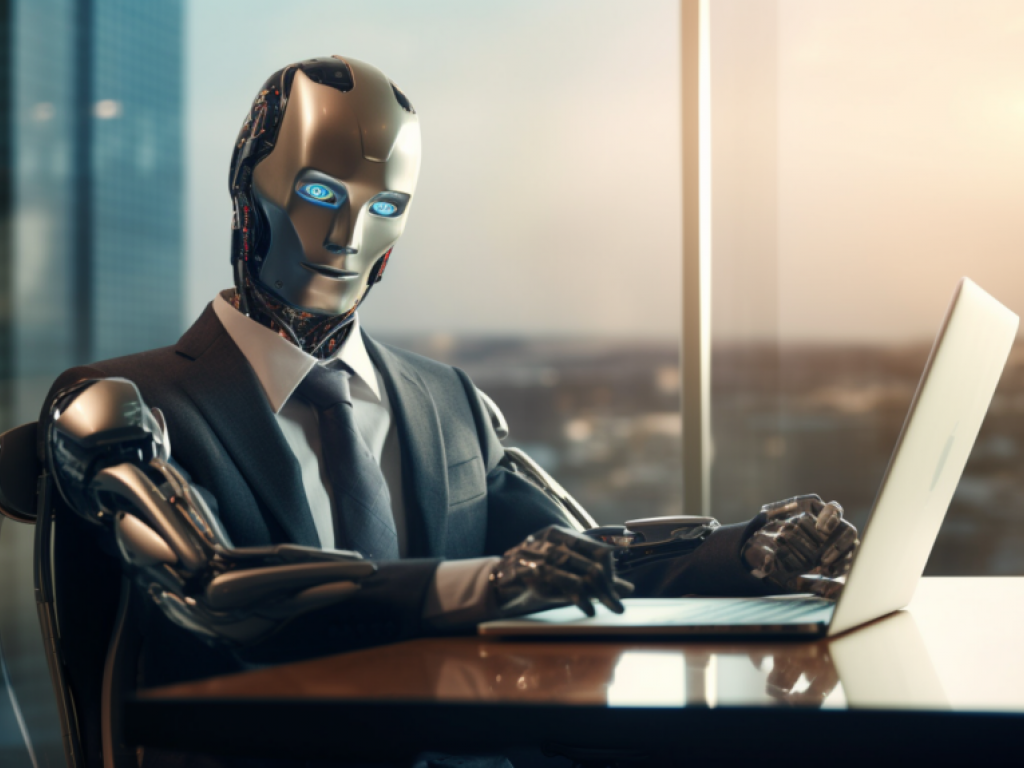 Artificial intelligence is quickly becoming central to the business strategies of most tech companies.
The latest earnings season is setting new records for the presence of AI in management speeches during earnings calls, a new report says.
Mentions of AI during the latest earnings season were higher than ever during the second quarter, surpassing the records set in the first, Reuters reports Monday.
Google Puts Pedal To The Medal On AI: Google parent company Alphabet (NASDAQ:GOOG) (NASDAQ:GOOGL) has so far been the firm to mention the term the most, with 62 mentions on last week's call. It's not surprising the company is deciding to double down on an AI-rich narrative.
Google recently had its dominance over web search put into question by competitor Microsoft, which has included ChatGPT within its search engine Bing since February. Google quickly fired back by rushing the release of Bard, its own AI-powered chatbot.
Surprisingly, Alphabet's mentions of AI surpassed those of its first-quarter meeting, which was held in the midst of the race with Bing, and amounted to 52 mentions. AI investment is being quickly made in other corners of the company's operations, integrating generative AI technology into its ads business and cloud products.
Analyst Laura Martin of Needham said ChatGPT's "existential threat to GOOGL's Search business has awakened the sleeping giant."
Intel Plays Catch-Up: Intel (NASDAQ:INTC) and Microsoft (NASDAQ:MSFT) tied for second this earnings season with 58 mentions of AI from each company. Intel's emphasis of the term follows a similar rationale as that of Alphabet's, as both companies share the characteristics of being a sector leader that arrived somewhat late to the first generative AI boom.
Intel mentioned the term AI almost four more times than on its first-quarter call, when it was mentioned 15 times.
"Intel is focused on AI, with most of its roadmap now AI-tagged in some form," wrote analyst Hans Mosesmann of Rosenblatt, while adding that his firm does not see "AI as an investable theme for Intel shares currently."
Intel fell behind competitors Nvidia (NASDAQ:NVDA) and Advanced Micro Devices (NASDAQ:AMD) in developing the chips that are quickly becoming the new standard for training large language models that serve as the core in generative AI systems.
Some of the optimism for Intel's AI business comes from a partnership with Microsoft to launch new chip architectures specifically designed to power AI capabilities within Windows computers.
Microsoft, perceived as an early mover in the AI space, also made the top ranks for mentions of AI technology.
"We believe MSFT is in the early innings of a massive penetration of AI and cloud that could conservatively approach 50% of its global installed base over the next 3 years," wrote Wedbush analyst Daniel Ives.
That means that half of the billions of Microsoft users could easily be using some form of its AI products in the medium term.
RBC Capital Markets analyst Rishi Jaluria said that AI will begin to impact revenue for Microsoft more clearly during the second half of the year. Nonetheless, there are already 11,000 Azure clients using Microsoft's recently launched AI cloud functionalities.
What's Next For AI In Corporate America?The books are not closed, as several high-profile tech companies are still slated to hold their earnings calls for the second quarter. Advanced Micro Devices, Apple (NASDAQ:AAPL) and Amazon (NASDAQ:AMZN) will post their results later this week.
But mentions of AI are breaking records outside tech, too. More than a third of companies in the S&P 500, which tracks the 500 largest publicly-listed companies independent of their industry, mentioned the term AI this quarter, up from one quarter of companies in the index in the first quarter.
Investor service firms Moody's (NYSE:MCO) and S&P Global (NYSE:SPGI) made the top 10 of companies with the most mentions of AI, which serves as evidence of the level of penetration that AI technology is having on investor markets in general.
Image made with Midjourney AI.